Solo exhibition at Adobe Books Gallery San Francisco, 2018.
Back Catalog is an art installation as memoir.
Five art pieces form a gallery work that incorporates processes and influences that span 30 years. The project forms a narrative to show where things from the past touch the present. It uses art to articulate a kind of autobiographical visual representation of my life as an artist.The project is a jumping off point for an artist book I'm developing, that juxtaposes past artwork with expressive writing about the places where the works were made, and the person I was when I made them. Back Catalog was originally curated in 2018 for the Adobe Gallery in San Francisco, where I lived from 2007 to 2017. The works were created before and after my practice there as senseofplace LAB.
'Place' is an inherent concept within my practice. In 2008, I founded the project-based platform senseofplace LAB and created works specific to San Francisco. This project was inspired by being in Rotterdam (where I lived for five years before moving to San Francisco) and Japan, where I traveled to when I lived in San Francisco. My relationship to place is long-standing as well as expansive. There are many ideas surrounding place that I have worked with as senseofplace LAB: more info on that project here. Aspects of 'place' in this exhibition include architecture, site-specificity and memory.
The five individual (re)configurations include: a new work that includes earlier pieces; a site-specific recreation of an earlier work; a contemporary formalization based on earlier inspirations; a re-contextualization of an earlier work; an earlier work framed within a new place. These five works engage subtle relationships of materiality to refer to ideas as overt as capitalism and environmentalism, – as well as spirituality and place. I see these concepts as interrelated the way the materials are. Shifting a relationship to materials is an inherent aspect of my work. This equation defines my practice: material + idea = communicative form. The ideas I'm communicating seem separate from one another but are connected, and the juxtaposition of materials within the works – and through an installation of works – reflect that.

Formally, the works unite in their monochromatic (or natural) palette – and nature is both physically present and considered as a entity . While there are many threads and connections between the works to form an installation as art work, the pieces are also meant to be seen individually.
Movement in Time, 2018
Large-scale photo, wood pallet
This work is a site-specific filmic documentation of movement within the site; moving towards the piece. Each work in this series is created on-site and then mounted on a found object from where the work is installed. This most recent version was created in San Francisco. The project refers to the Buddhist focus on being present.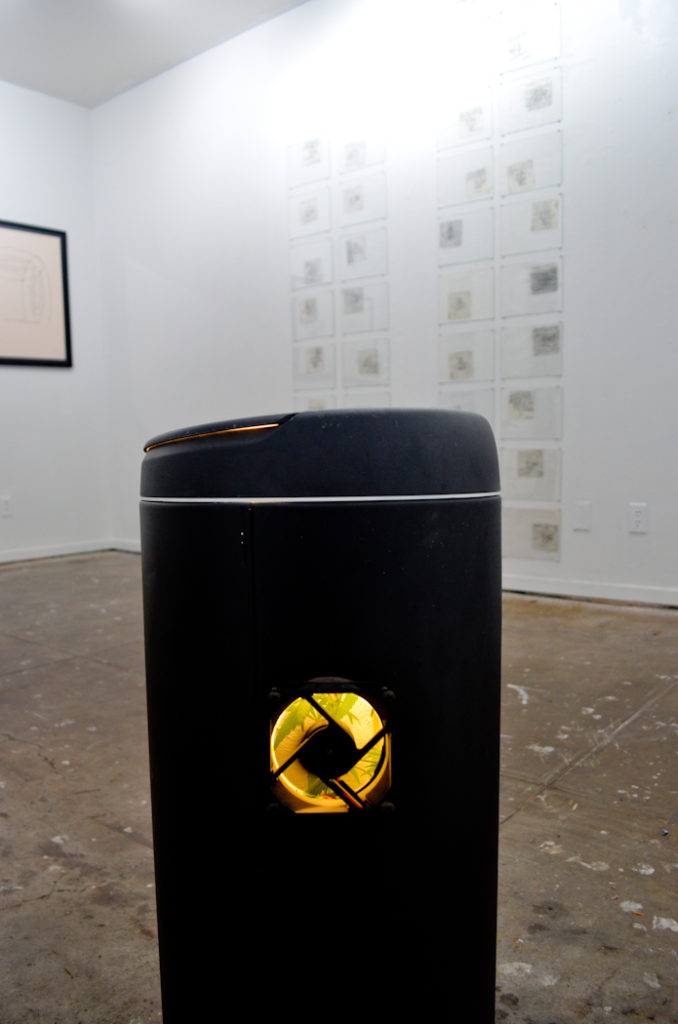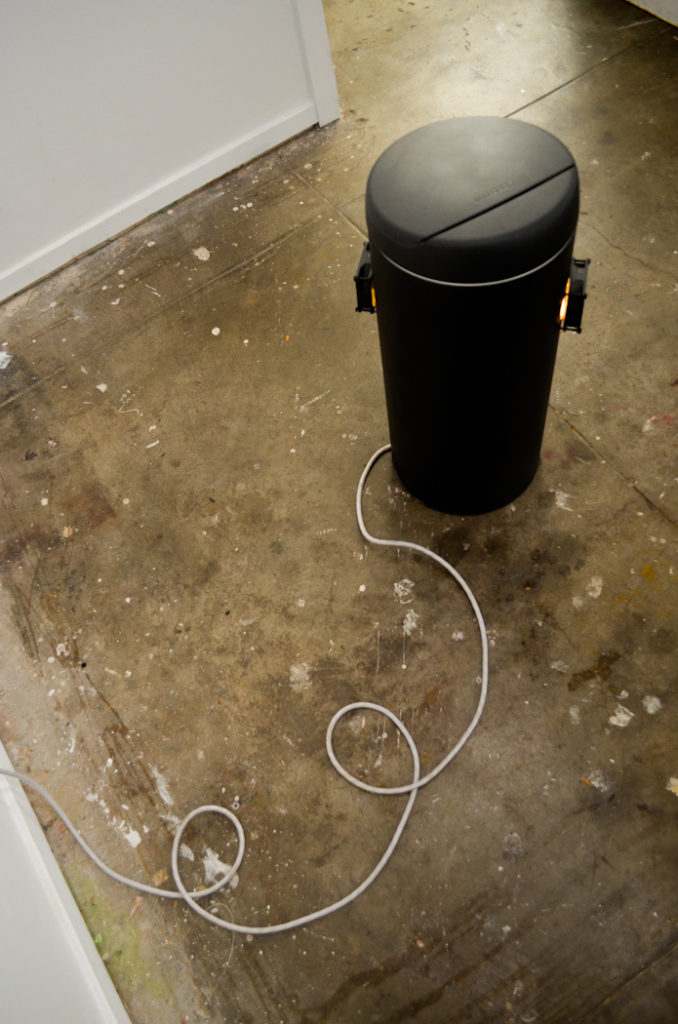 Loving Witness, 2018
garbage can, light, fans, plant
Functional sculpture. Practicing Buddhism can be thought of as looking at the world (being) a loving witness to all that exists around us. In this case, nature is the loving witness.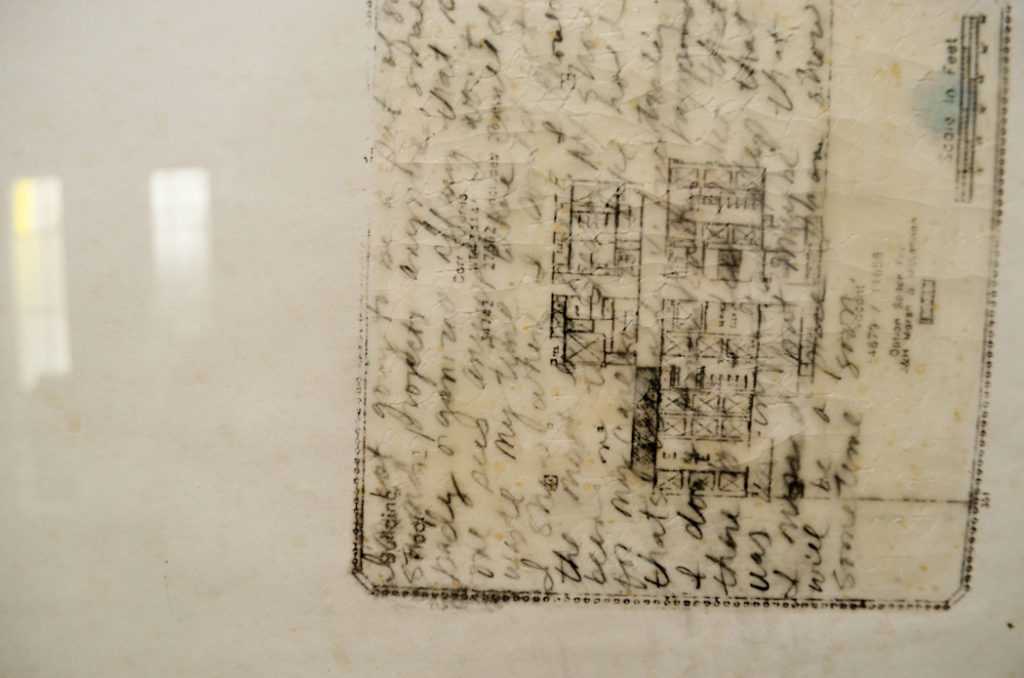 Language is used as a material in several of the works in this exhibition. In Towering, as a way to expand consciousness and as a process of healing. In Not Nature, as a capitalist (patriarchal) form of power and control.


Towering, 2003-2018
Found paper, pencil, wax, xerox transfer, glass

In this work, I include pieces from an on-going series titled speaking in public, which refers to processing private emotions and shown in a public space. Each work starts with found paper from the site. A reduced image of the architectural blueprint of the site is transferred onto the paper. Stream-of-consciousness reflection of personal experiences in the site are written within the image of the architectural plan. Wax is applied as intentional obfuscation. Parts of words are still apparent to refer to the way the unconscious enters consciousness.
These drawings use paper found in the garbage of the 93nd floor of WTC in 2001, days before 9.11. I had a studio there as a part of a LMCC residency. The writing was a way to process my experience.

This new configuration/installation of the drawings refers to the event (and place) as towering; monumental, imposing, overpowering.

Not Nature, 1990
Four silk-screen prints
The original impetus of these works was frustration with the patriarchal.capitalist use of language onto nature: to define nature, to control nature, to commodify nature. The botanical prints have the latin names of the plants changed to Imperium which means Power and Domantio (domainatur) which means Control. The graphs and charts are abstracted to place data in the same context. The works were prescient because this kind of patriarchal/capitalist thinking created our climate change problem. The graphs and charts now refer to our relationship to this reality. Our apathy in the face of facts and to the political power that the people have – and may not use.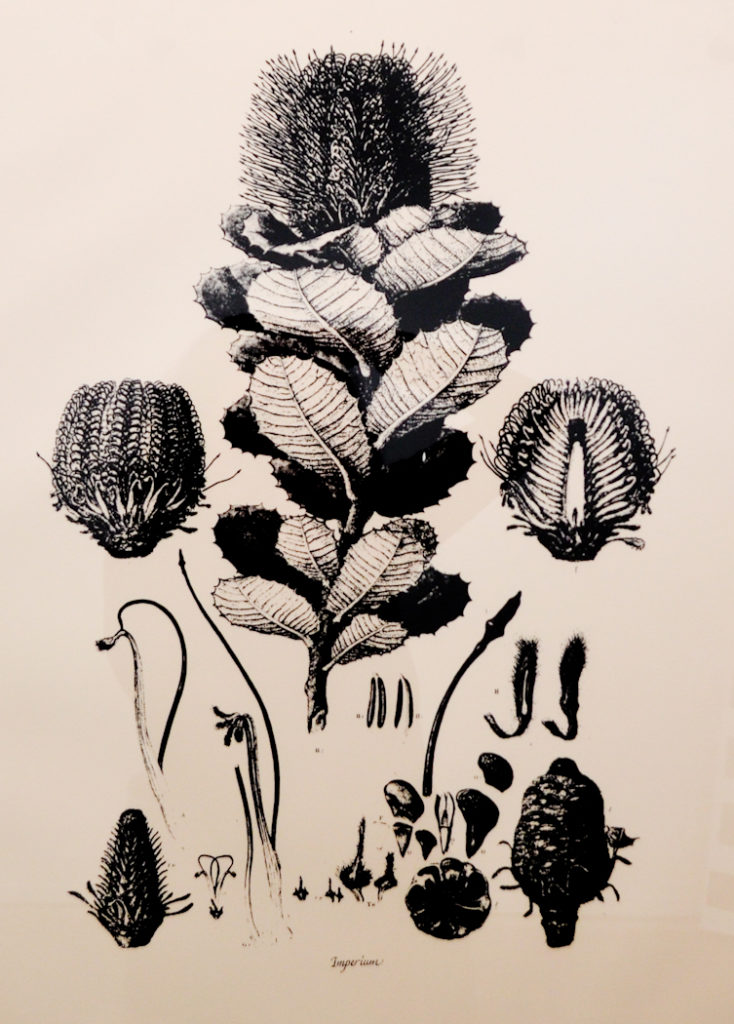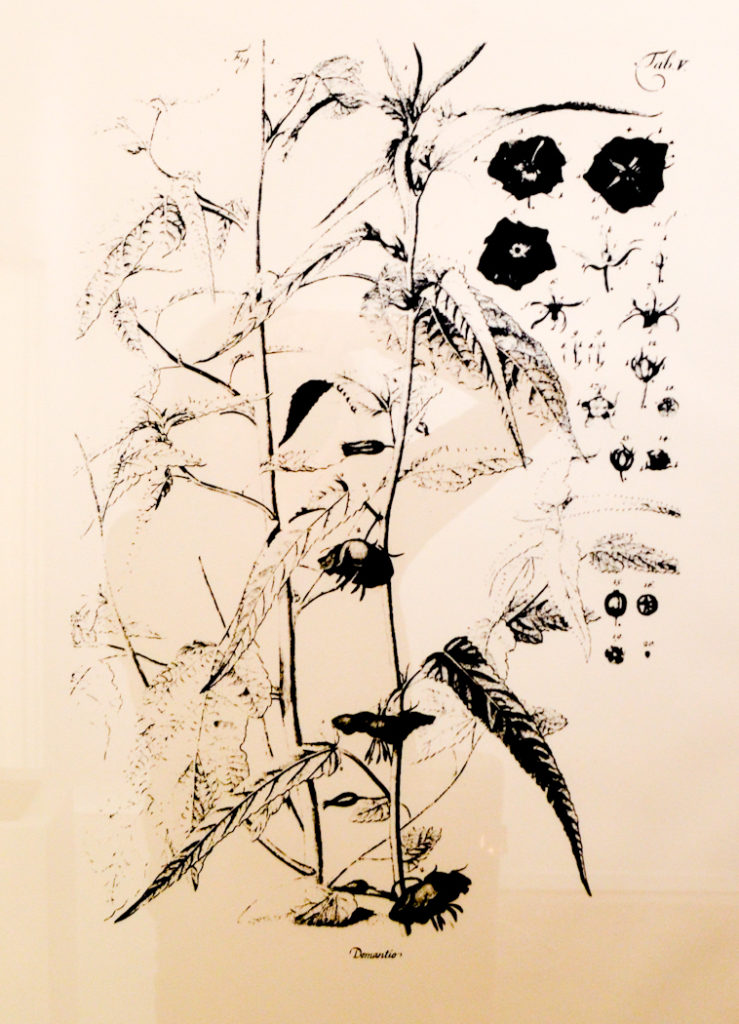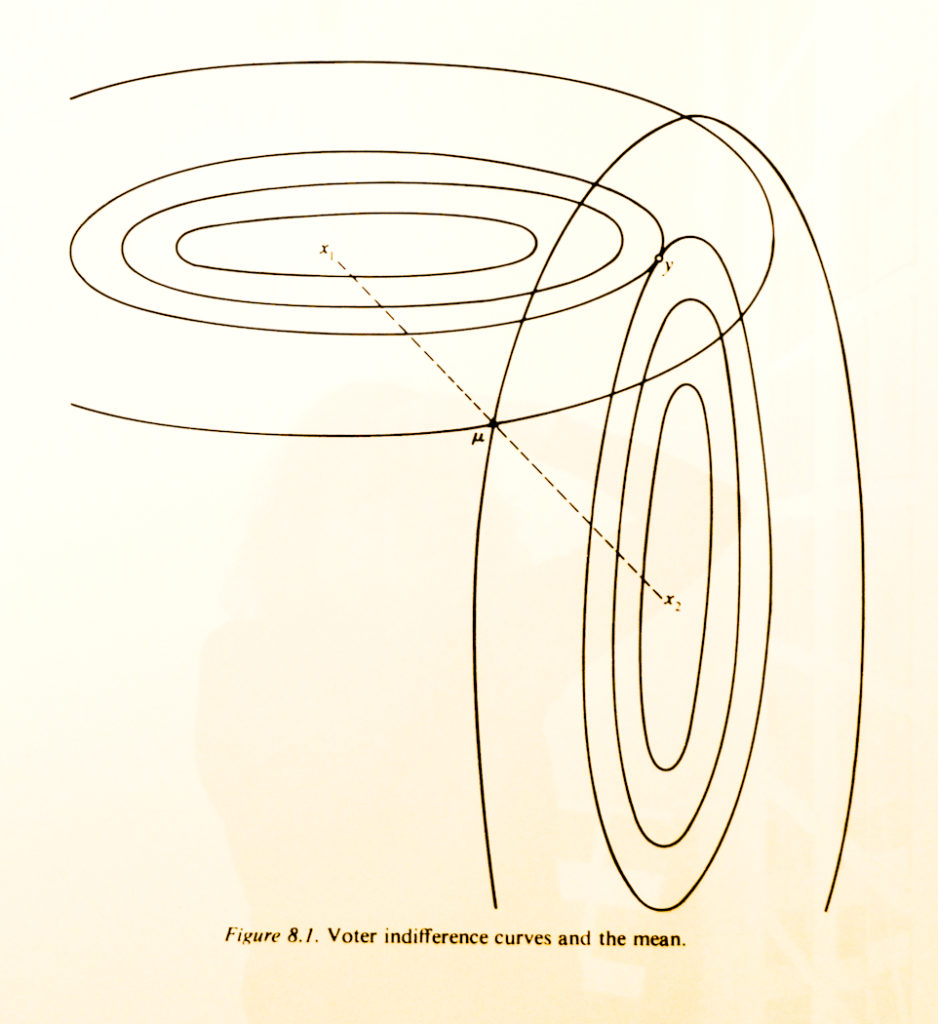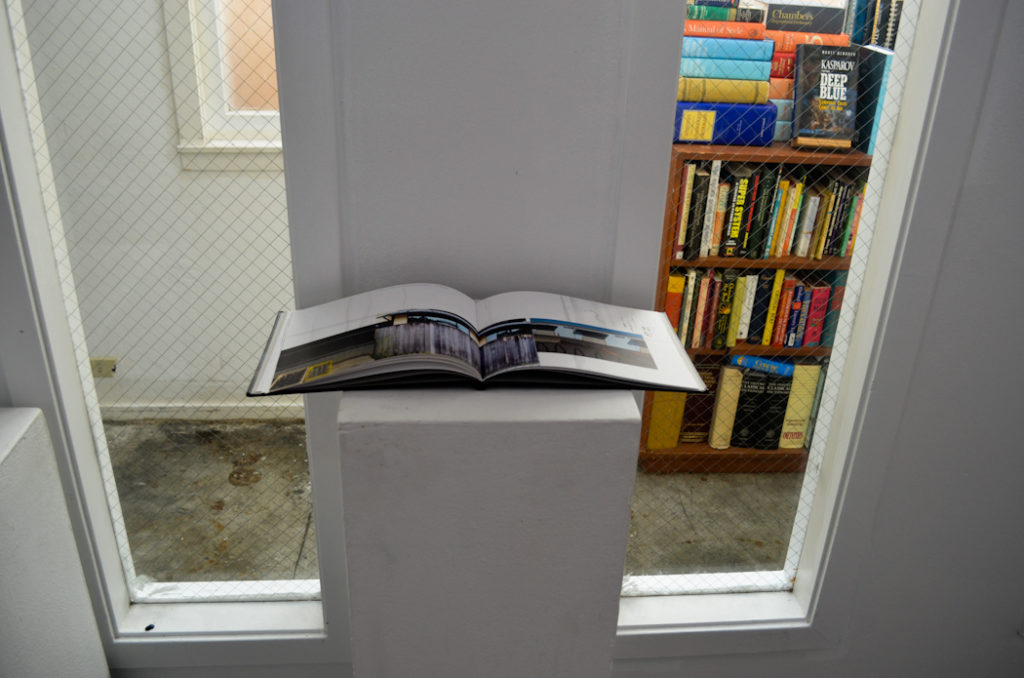 Honoring Japan's sense of place, 2012 is a book I created based on my experience in Japan in 2011. Preview and purchase here. Language is used several experimental ways. The book is designed to be read front to back (English format), and then turned upside/backwards to be read back to front (Japanese format). I wrote Haiku's to accompany the photos I took there, and they are in both languages.