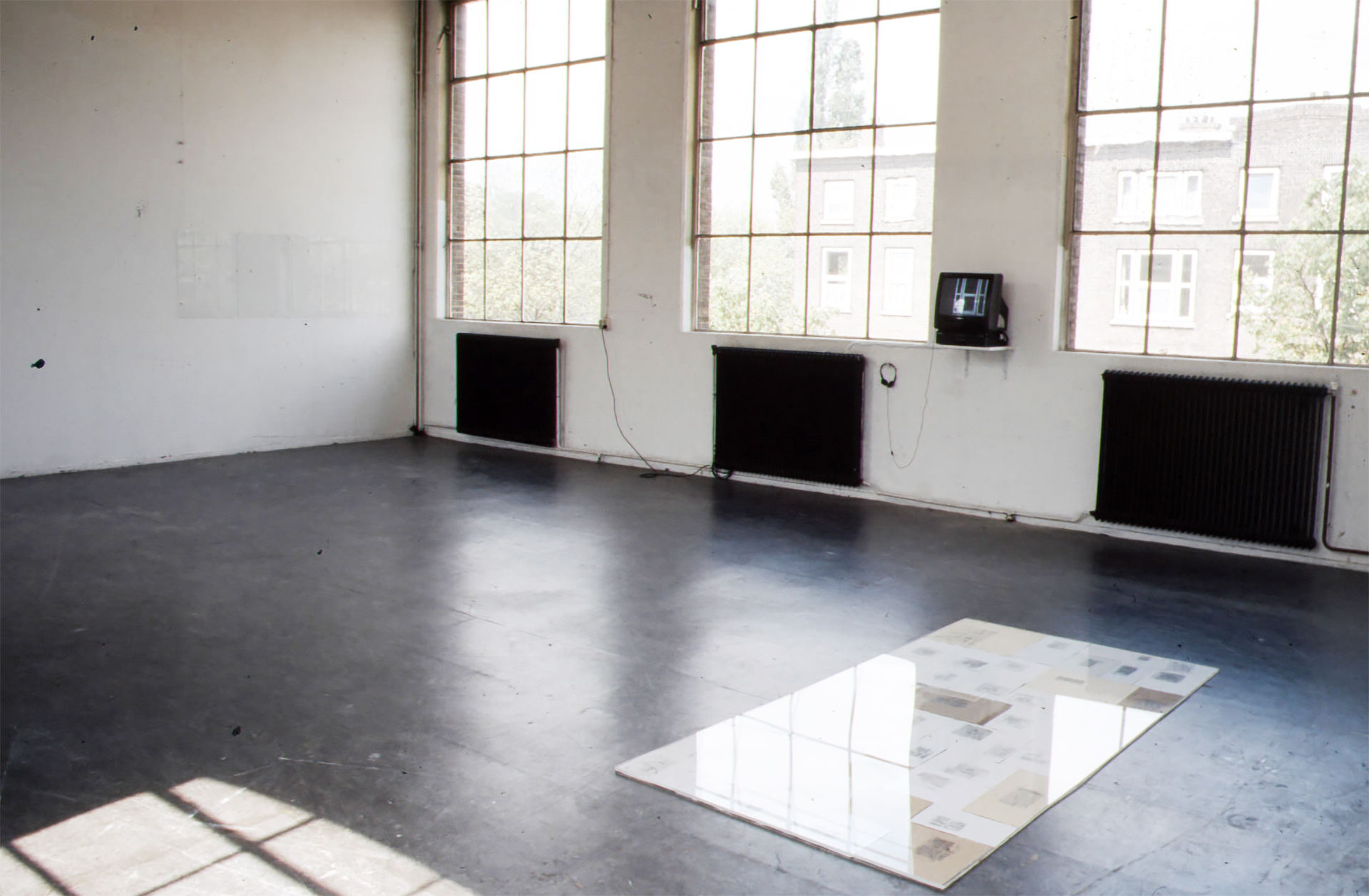 Intra-disciplinary installation
Duende Residency – Rotterdam, The Netherlands, 2002
The installation is focused on my relationship with the architecture and my experience within this space; the light, the shadows, the walls, the floors, the shapes of the windows, the views from those windows.

Voyeur, 2002 Video installation
The video was shot from these windows, of a couple in an another window across the street. Found audio.

Refraction, 2002
Four pieces of glass the same size as the four bottom windows, placed next to them to capture the reflections.

Standing in Place, 2002 Drawings under plexiglas
Floor installation of drawing works from the Speaking in Public series that began in 1998 in New York. This piece includes several new drawings based on architectural plans of the building. Below are close-ups of some of the drawings.
Speaking in Public is a drawing series that uses architectural prints from buildings I have a relationship to. The architectural prints are reduced in size, and xerox transferred onto paper that I've found in these buildings. The marks are stream-of-conscious writing about my feelings and thoughts based on my experiences in the buildings. The marks are partially erased, and then melted wax is added, then more writing on top of that. The end result alludes to a metaphor that Freud used to describe the process of consciousness and subconsciousness. He took a children's toy from that era as a metaphor (similar to present toys with the black boards and grey material on top that you could draw on, and then lift to remove the drawing). When the material is lifted there is still residue of what was drawn/written. He equated this with how elements of our subconscious can appear in our consciousness. The works look at the layers of psychological experience within a place.

These three photographs were taken from this window.

Installation shot.